Listing of events
VANPEX 2019 (Sept 27-29, 2019)

---
Published by Bill Bartlett of Victoria and featured on their Vicstamps web site, Greater Victoria & Vancouver Stamp Show & Bourse Listing of Events & Stamp Directory.

Links to other clubs
The BC Philatelic Society enjoys associations with philatelic, numismatic and other organizations in Canada and the United States. See our list of useful links.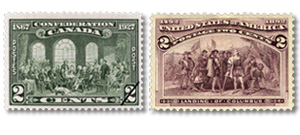 Dealer-members of the BC Phil
The BC Philatelic Society enjoys the membership of several stamp dealers in Metro Vancouver and Victoria, three of whom make this web site possible through advertising. Their ads include e-mail and web-site links. Please support them.
VANPEX 2019 – Raffle winners – claim your prize ...
The following (last 3 numbers of the tickets are winners): 038, 032, 022, 335, 296, 110, 200, 244, 196, 095, 288, 241, 293, 205, 325, 246, 268, 282, 310, 283, 312.

Come to any Wednesday night meeting with your ticket and collect your prize From the Vanpex 2019 committtee.